Event Timetable
Friday Afternoon:  Moonshine run from the hotel, 3:30pm.
Friday Night:  Stag's Head Pub, 18.30 until falling over.
Saturday Morning:  09.30 bus pick up at the hotel. 14.30 bus back to the hotel
Saturday Evening:  18.30 bus pick up (perhaps modified a bit) at the hotel to dinner. Dress Smart Casual. Midnight back to the hotel.
Sunday Morning:   11.00 bus pick up at the hotel.
Sunday Evening: Taxi back to hotel when you wish.
Updates:
13/08/2019 – Note:  For those not attending the Moonshine run at 3:30pm on Friday the 16th, the evening will start following on from the Moonshine at 6:30pm in the Stag's Head pub, not far from the hotel.  Bring money for food and booze.  Google maps link.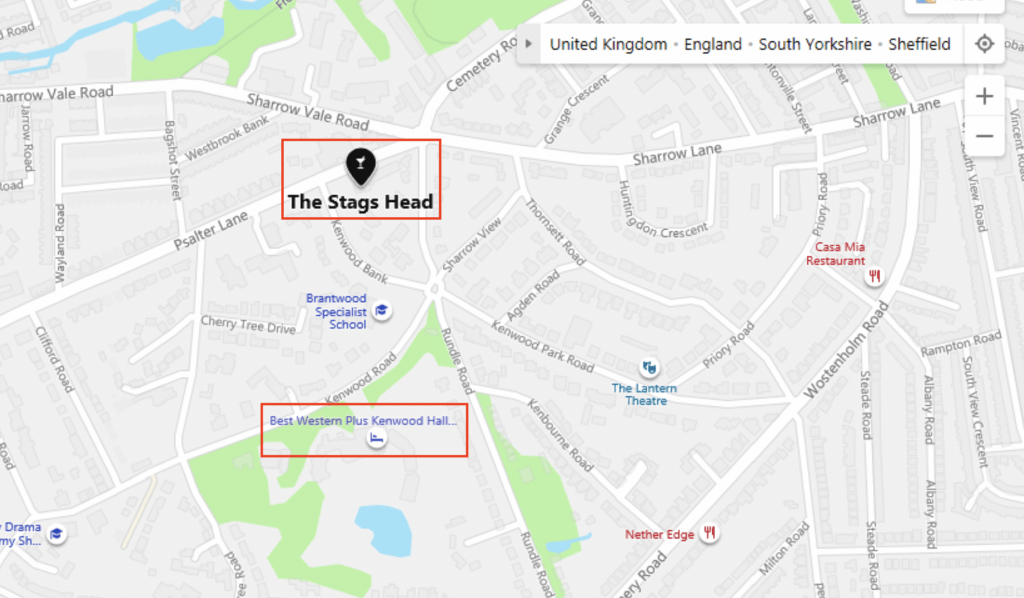 12/08/2019 – Update from Orrsumcunt:
"In a few days our hash will start. On Friday at the crowded pub I will give you a bill for your share of expenses so far. It will be about £46 each person. I will collect the money on Saturday prior to the start of the circle.
We have a very kind sponsor for the T shirts so if you paid £10 for this then you bill will be £10 less.
If you haven't paid for your meal at the Saturday dinner then it will be £30 more.
These are rough calculations at present and are per head, NOT per couple!!!
The main run is about 4km in length with stiles here and there. It is not a circular run but end to end. Do any of you expect to not to run (or walk)  but would prefer to remain with the bus to the on-in?  Please tell me so I can make sure you have transport in case the bus does not go straight to the on-in. You will be asked to help with the tent, probably, while waiting for the runners.
I will be at the hotel with a van. If you wish, I can take stuff to the site for you. The van will already have tent, tables, food, booze in cool boxes.
It will be wet, they say.  Slasher says it will be cold, too. Bring you thermals.
If you miss the bus on Saturday (booked for 9.30 AM) you can taxi it quite cheaply to "The Tigers Rugby Club, Eccleshall Road South (Hathersage Road), Sheffield S17 3AB. The taxi service I use is City Taxis on 0114 2393939. For a fee, the club is providing toilets and the site for the circle etc.
If you have wish to contact Vicki or myself our mobiles are (me) 07922164026 and (Vicki) 07867911023. When at home our mobiles are poor. Mine especially. Our home number is 0114 2365347. If you miss the bus on Sunday then the afternoon hog-roast and piss-up is at our house: 80, Pingle Road, Sheffield S7 2LL.
To those kind people who are bringing cool boxes and chairs, please drop them off at the above address on your way to the hotel.
Don't expect to sit unless you bring a chair.
Contact me if you must."
16/04/2019 – Update from Orrsumcunt:
"Dear Hashers,
Time marches on. BT is organising the T shirts and Brownie Box is doing the artwork for them. So far no-one has replied to my requests for sponsorship so it looks like £10 each for the pleasure of owning one. If any amongst you can get a sponsor that would be nice.
I don't think there will be a magazine unless someone volunteers be an editor. Someone suggested Fucknose but he didn't. I have worked out the run but not actually run it since it involves a hill. Everything else is in hand. I will send round menu choices much nearer the time. £30 each.
So far there are 79 of us. I guess we will stop increasing soon although I expect a few more to join us.
Please be prepared to pay in advance for the T shirt and meal. There is also the buses to cost and, of course, the booze for Saturday circle and Sunday in the garden."
Weekend details as follows:
To sign-up, you need to mail Orrsumkunt:  Graham Orr grorr@outlook.com
You're probably too late to sign up for the hotel as it had limited rooms… although you can try your chances to see if they have any available:
Kenwood Hall Hotel, Sheffield, S7 1NQ
Martrece Jones
Senior Meetings & Events Co-ordinator
Best Western Plus Kenwood Hall
0114 258 3811 extension 625
martrece.jones@kenwoodhall.co.uk
Booking reference for discounted rates was:  "CH3 / ORR" and dates are for the nights of 16th and 17th Aug with 18th optional.
The agenda so far is:
Friday 16th – Meet at the hotel and walk or coach it to a food-pub.
Saturday 17th – A run (or walk) in the green part of south Sheffield. Circle then BBQ lunch.  Evening – Sit down dinner
Sunday 18th – Trip to the largest and oldest steam engine used to roll armour plate. Late buffet lunch in my garden. There is a large garden room if it rains